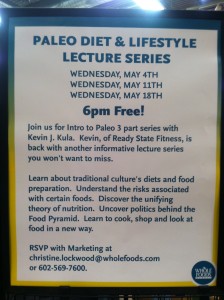 Last night was my second lecture at Paradise Valley Whole Foods, the first being, "Optimizing a Vegetarian Diet", a lecture that focuses on applying Paleo Diet principles to a Vegetarian Diet.
The Paleo framework includes and transcends all dietary philosophies so the vegetarian approach would focus on supplementing with vitamin D and B12, including coconut and palm oils and other fats: olive/avocado, as well as avoiding wheat/gluten and minimizing other grains. Carbohydrate sources would include starchier tubers like root vegetables and squash instead of relying on beans and rice. Adequate protein intake is definitely a concern but a higher-fat diet is protein sparing and minimizing anti-nutrients like phytates and protease inhibitors will help with protein and mineral absorption. So if meat and veggies is what we are adapted to, there definitely needs to be information on, "Optimizing a Vegetarian Diet".
In yesterday's lecture I kicked off a 3-part Intro to the Paleo/Primal Diet and Lifestyle series that will run the first 3 Wednesday's of each month from 6-7pm.
Thank you to Whole Foods for being receptive to new science and dietary approaches, Whole Foods has a great produce and meat department and alot of gluten-free speciality items that fit with a Paleo Diet approach.